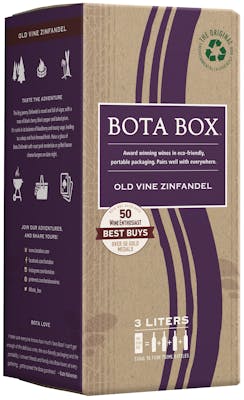 SKU: 10930
Bota Box Old Vine Zinfandel
---
---
Packed with flavors of ripe blackberries, baked plums and spice, Bota Box Old Vine Zinfandel captures the exuberant, sun-warmed essence of California's greatest Zinfandel territories. Great with baby back ribs, bacon cheeseburgers, or pork tenderloin. A wonderful barbecue wine pairing, and a crowd pleaser to sip on while you meal prep.
Tones of grape, candied plum and blackberry give this full-bodied wine a big impact. On the soft side in terms of texture, it's easygoing and approachable.
Perky but fairly simple, with cherry and toasted herb flavors. Drink now.